GREETINGS
Thank you for visiting our website!
Since we believe that you may experience different cultures and customs through sweets, we decided to create a webpage in English. We hope that you get some ideas of Japanese cakes.
Japanese people really enjoy the four seasons and love to feel connected to nature. To incorporate the seasons into our products, we use seasonal flowers, nuts, berries, and rice as ingredients and wrap some cakes with natural leaves.
We will create some more pages in English, so please check them out!
Kyoto-Style Sakura Mochi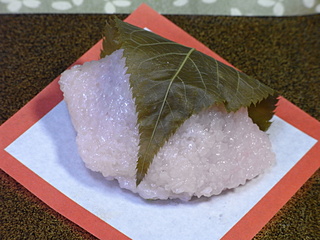 This is one of the most popular Japanese cakes in spring. This rice cake with sweet bean paste is wrapped in a salted cherry leaf. The rice is colored pink as cherry blossoms.
Tokyo-Style Sakura Mochi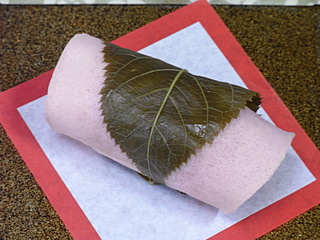 This is a Japanese cake with sweet bean paste wrapped in a pink crepe and a cherry leaf. The scent of the cherry leaf brings us the feeling of spring. The leaf also has preservative effects.
Kashiwa Mochi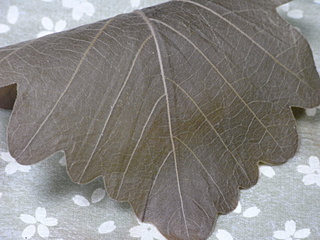 On the 5th of May there is a national holiday called "Children's Day" in Japan. This holiday is also known as "Boy's Festival." On the day people eat a rice cake called "Kashiwa Mochi." This rice cake is stuffed with sweet bean paste and wrapped in an oak leaf. The cakes are wrapped in oak leaves because oak trees don't drop dead leaves until new buds come out in spring and are considered as a symbol of fertility in Japan.
Ichigo Daifuku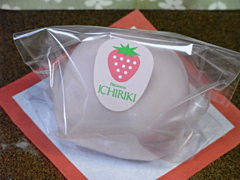 Ichigo Daifuku is a small round sticky rice cake filled with sweet bean paste and strawberry. There are two types of Ichigo Daifuku: One is pink and is stuffed with sweet white bean paste and the other is with smashed red bean paste and black beans. This cake reminds us that spring is nearly here. Although the boom of Ichigo Daifuku is over in Japan, it is sill one of the popular cakes in our store.